Types of Silk Fabric Part 2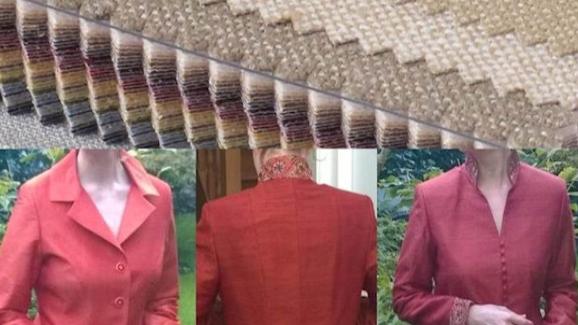 Part 2 of our silk fabric feature giving you an insight of what types of silk are available and some of their uses.
Silk is a lustrous, soft and highly versatile fabric, which has been used for hundreds of years to craft stunning fashion items, like evening gowns, and for crafting beautiful items, like drapes, for the home. Silk is a very beautiful fabric, which looks and feels simply luxurious. There are many different types of silk available, and each silk has its own features and advantages. If you haven't seen it yet, then take a look at the first part to this silk guide.
Matka
Matka is a sleek and stylish silk that you can use to craft a wide range of clothing items, including evening gowns, suits, jackets and blouses. It has a similar texture to tweed. In addition to being an ideal fabric for clothes and accessories, silk Matka is also ideal for upholstering and for creating drapes and other home décor pieces.
Satin
Sleek, soft and very luxurious, silk satin is a simply beautiful fabric. Silk satin can be used to make a wide range of fashion pieces, including evening dresses, bags, garters and neckties. This beautiful fabric is also an ideal choice for bridal wear.
Lace
Whilst not a silk fabric, lace is certainly worth a mention! Delicate, lightweight and sophisticated, lace is a fabric that simply emanates elegance. This beautiful fabric can be used to craft clothing items, and accessories, like bridal gowns and shawls. It's also ideal for home décor pieces, like table runners and upholstering.
Habotai
Habotai silk, which is also known as China silk, is a plain weave silk. Originally, Habotai silk was used to line kimonos. This lightweight to medium weight fabric is slightly sheer, and has a smooth, luxurious finish. This fabric drapes beautifully, making it ideal for crafting evening dresses, bridal gowns, scarves and many other clothing items and accessories.
Charmeuse
Charmeuse, which is also known as a crepe backed satin, is a satin weave silk that features a crepe back. This fabric is very lustrous and glossy, so it looks simply gorgeous. It is the satin side of this fabric that gives it its glossy finish. The crepe back of Charmeuse is more matte. Charmeuse drapes beautifully, making it ideal for crafting a wide range of clothing items. This medium weight fabric sews beautifully. You can use Charmeuse to craft bridal wear, dresses, skirts, nightgowns, lingerie, tops and evening wear.
Thai
Soft, sleek and luxurious, Thai Silk is a beautiful fabric. As the name suggests, Thai silk is produced from Thai silkworms, mostly in the northeast of Thailand. It is a very glossy and lustrous fabric, which feels soft and smooth. This stunning silk can be used to create a wide range of silk fabrics, including dresses, blouses, scarves and evening wear.
You can find a plethora of silks at Silks and Crystals. We offer a stunning collection of silks from the world's finest silk specialists like James Hare. Our silks are available in a wide range of colours, from elegant ivory to bold hot pink. All of our fabrics are also available plain or embellished. Browse our collections of silk to find your perfect fabric.