Summer Wedding Dress Considerations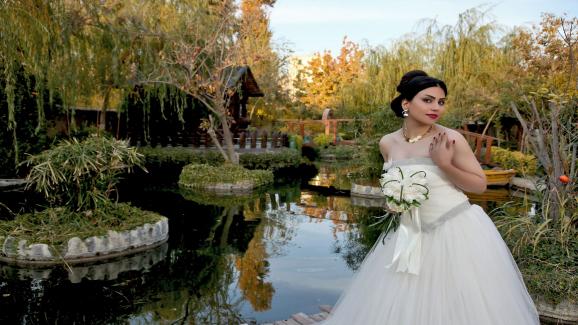 Planning your big day is an exciting time in your life. Despite there being so many things that you need to take into consideration, choosing your dress is one of the biggest decisions you have to make. This is especially the case when your wedding is either in the middle of the summer or during the winter when the temperature is at its most extreme. With this in mind, we have accumulated some tips to consider when choosing a summer wedding dress, so you can choose your ideal dress and eliminate any stress from planning your wedding.
The Weight
Your wedding day is full of love and happiness and you will find that you spend a lot of time on your feet talking to guests or dancing in the evening. Therefore, when choosing your summer wedding dress, it's important that you take the weight of the dress into consideration. The style of the wedding dress and the material you opt for will determine how heavy your dress is. So, if you have a petite figure and you don't want to drag a huge, heavy trail around, maybe opt for something made from a lighter material, such as silk. You should also think about the temperature. Ideally, in the summer it should be a lot warmer, so you don't want a heavy dress to carry around if you are hot. Charmeuse and chiffon are both light materials, which create stunning wedding dresses, as well as organza which is also a lightweight fabric that was traditionally made from silk.
Design And Style
Each fabric has a different appearance and feel to it, which is why you should try a variety of different materials to see what suits you and feels the best. Everyone has an individual shape and preference, so take your time choosing the style that you like. Of course, if you are choosing a summer wedding dress you should deliberate what will work well for that time of year. Every year, wedding dress trends change, which is why research is always beneficial before you start trying on potential wedding dresses. However, if you aren't worried about having a dress that is in line with the latest wedding dress trends, choose a material and style that matches the theme of your wedding. Picking a design that you will feel confident and comfortable in during the summer is important, after all, it's your big day. You dress should reflect you and your personality, which is why it's essential that you choose your dress and take your time trying on different materials and styles until you find 'the one'.
The Material
As previously mentioned, choosing the right material for your dress is crucial for many reasons. The most traditional fabrics used for wedding dresses are satin, charmeuse, chiffon, organza, tulle and lace. All of these create a sophisticated, graceful dress which will help you float down the aisle and grab everyone's attention. Hopefully, these top tips have given you some inspiration for choosing your dress for a summer wedding. By taking these ideas into consideration will enable you to pick the perfect dress to tie the knot in. For more information about the materials that are perfect for wedding dresses, don't hesitate to get in touch with a member of our experienced and helpful team, today.