Choosing the right White Wedding Dress for You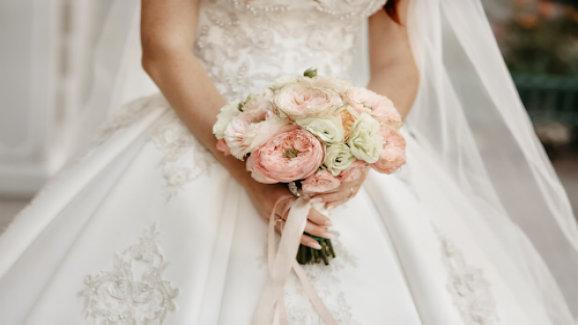 Congratulations! You're getting married. Whether you have just started to plan your big day or have been working on creating your dream wedding for some time now, it's never too early to buy the dress of your dreams.
Here, we're taking a closer look at the right white wedding dress to help you shine bright on one of the biggest days of your life.
Shape
Before choosing the perfect white wedding dress, it's crucial to consider the shape and style of dress that you want to walk down the aisle wearing. Finding the best wedding dress silhouette for you is a great place to start as it will allow you to narrow down your choices when it comes to booking an appointment with your dressmaker or at a bridal store. From here, you can then start to think more about what colour wedding dress you want, ensuring that it will tie in well with the overall theme of your wedding.
Ivory
For those who are not a fan of the traditional bright white dress, the colour ivory is the perfect compromise. A slightly white colour by nature, the colour ivory is perfect for almost every skin tone and helps to keep with the theme of the traditional white wedding dress without sticking to the conventional colour. Whether you opt for the subtle hue of ivory chiffon or one that is slightly deeper, you can make your special day one to remember.
Bright White
The more traditional option on this list is the bright white wedding dress. With a number of materials available to add your very own personal touch, you can truly make your wedding dress your own. Whether you opt for a white veil or you go for the less traditional option of a sparkling tiara, a bright white wedding dress is suitable for any wedding theme.
Silver
For many, getting married is about walking down the aisle in a white or ivory dress. However, have you considered a silver wedding dress? Silver wedding dresses provide the perfect modern twist on tradition and photograph beautifully against almost any backdrop. What's more, silver wedding dresses can also be paired with a range of accessories from short necklaces and dainty earrings, to an elegant choker.
Champagne White
If you're not quite ready to step out in a silver wedding dress, have you considered a champagne alternative? This colour theme is a popular choice for many brides as it provides the perfect combination of elegance when paired with white lace. The slightly darker hue that this colour offers is also perfect for any season, including the spring and summer. This is especially true if you are planning to get married in the evening when the sun is setting. If this is the case, be sure to take advantage of golden hour!
For more information about the James Hare fabrics we have available, get in touch with a member of our expert team on +44 (0) 330 1336 064 today.