5 Things to do with Fabric Scraps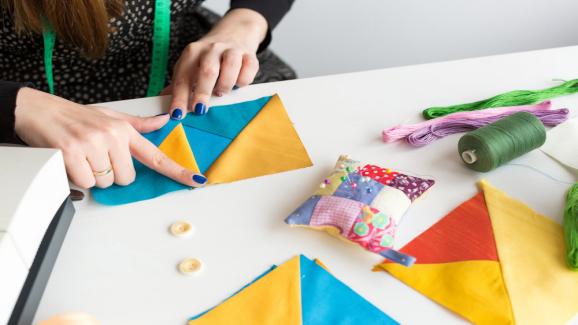 Coming to the end of a project, whether it is designing a luxury wedding dress crafted using traditional bridal silk or a home interior design project whereby you re-covered your favourite armchair to give it a new lease of life, you are likely to have several awkwardly-cut pieces of fabric left over. Fortunately, you don't have to throw these pieces of fabric scraps away! Here, we're taking a closer look at how you can use these scraps, from creating your own pincushion, to designing your own keychain.
Design Your Own Book Mark
If you quite literally have a scrap of fabric leftover from your latest project, use it to design your own bookmark. Bookmarks never go out of fashion and even if you're not an avid reader, you can use it to mark pages in your favourite catalogue or magazine. Alternatively, share them with your family or friends. Handmade gifts are one of a kind and will be very much appreciated!
Create Your Own Pincushion
If you've got a decent amount of fabric left over, create your own pincushion. Not only are these incredibly ease to make, but you can use numerous different types and styles of fabric to make your pincushion truly unique. Pincushions are also super handy and can be used to keep any form of pin from falling on the floor.
Fabric Scrap Keychains
If you keep losing your keys in the bottom of your bag, then create your very oven fabric scrap keychain. All you need is a scrap of fabric and a keyring to attach it to. For that extra touch, sew or glue on your favourite embellishments, whether that is different sized buttons or your initials in a plain or crazy-patterned fabric.
Cover Your Flip Flops!
If you're bored of squeaky flip flops the moment you step out of the door or shower, cover them with your fabric scraps. Not only will this stop the repetitive squelching noise they make when submerged in water, but it provides you with additional grip, helping to ensure that you don't slip out of your shoes when walking on an inclined surface.
Design Your Own Duvet
Add a splash of colour to your current duvet by sewing on multiple fabric scraps! Not only is this a great way to spice up your bedroom for the New Year, but it will cost you almost nothing to do it. Apart from initially buying the fabric for your project, it won't cost you a penny! If you have limited fabric available, you can always consider updating your pillow cases for something a little different. Alternate your fabrics for a unique design that you can be confident that no one else is able to copy!
If you are struggling to find the perfect fabric or silk for your coming project, get in touch with a member of our friendly team on 0330 1336 064. Alternatively, shop our extensive range of James Hare fabrics online, today.